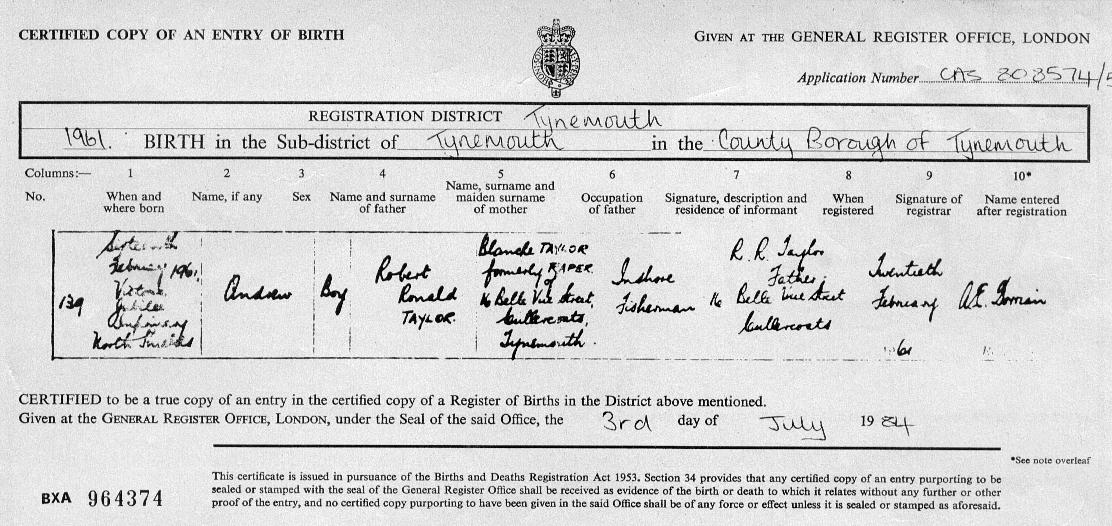 Andrew Taylor was born in the Royal Victoria Jubilea Infirmary in Tynemouth, near Newcastle. His father Ronald was an inshore fisherman, mother Blanche a housewife. "I learned to use my instrument when I was five, but it was plastic at that time", Andy told the press in Los Angeles in 1984. It was true, he really started playing guitar at age five. He had a happy childhood, until his mother left the family when Andy was eleven. "The first day I went to grammar school dead exciting, you know well, I came home and my mother had gone! So I thought, oh well, it's just me and my old man and my little brother." He and his brother Ronald got two step-sisters when his father married Andys stepmom Sandra: Anne and Lynette. His dad bought Andy an electrical guitar in the same year. That's when Andys life changed. He transferred to Whitley Bay Junior and Comprehensive, where the syllabus was so far behind that of his former school that he lost all interest. "I totally lost interest in school, become a real bum and drop-out, never used to go at all. And then I became the black sheep kid at school cos I had long hair and played in groups, and all the rest of the lads were going camping or something. I wasnt into that."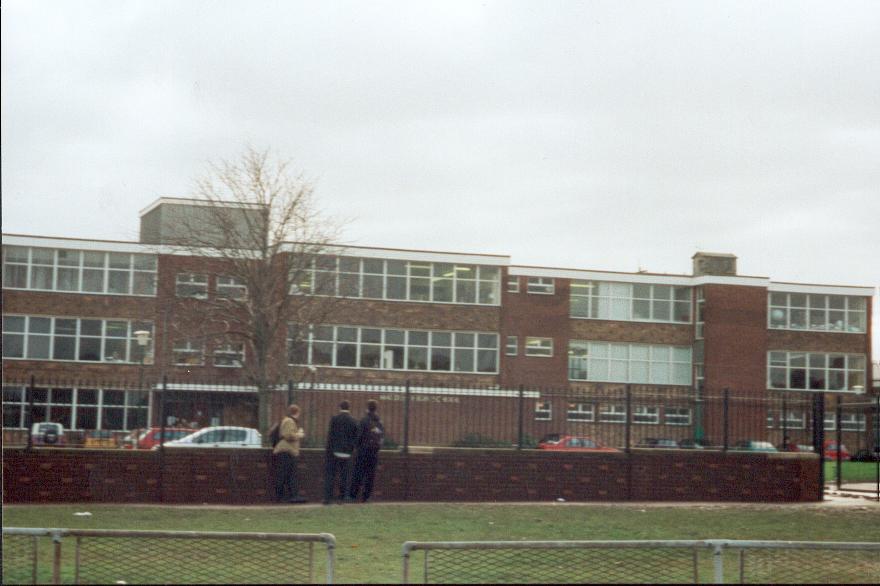 Marden Highschool
Later on he attended Marden High School in Cullercoats. "It was great having an older brother at the same school", brother Ronnie recalls. "Right handy. He used to stop me from getting beat up. He was quite tough too, but very clever, artistic and always interested in music. I can remember when he went along to the careers officer with our dad. He told him he wanted to be a pop star and the careers officer didn't know what to make of him. During the last years at school he seemed to give up. He wasn't interested, he was more keen on his music. Teachers tried to push him into a solid trade like plumbing and bricklaying but he declined." Andy's dad encouraged him to play guitar though, so Andy took lessons from a guy down the street, called Dave Black. "He was essentially a jazz player, but he got me started at the cost of a pound a lesson", said Andy. He was a fast learner, he already played professionally when he was 13. At that time he dropped out of school, he simply stopped going. "I got into all sorts of trouble at school. But when youre heart's in something, you just do it. I didn't even think about it really."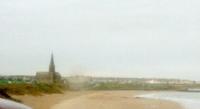 View from Tynemouth on Whitley Bay
"Andy was discovered at an early age at Whitley Bay underneath an upturned fishing boat, playing a plastic guitar", Simon Le Bon once said. "He's told me that his first experience of music was in a musical instrument shop on a Saturday afternoon, playing Smoke on the Water on practice amps, you know, da da DAA, da da Dadaaa. He was very well educated for a while, then there were some family problems and he left grammar school to go to secondary modern. He was way ahead of the teaching levels there and started losing interest in school, getting into music and all the naughty things boys do."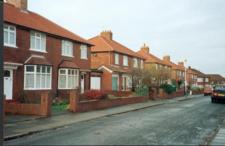 Newton Avenue, where Andy grew up
At 16 Andy joined a punk band called The Gigolos who changed their name into Motorway in 1977. They landed a record deal with A&M and released the single Teenage Girls. It never charted. The next single he recorded in 1980 with his band The Crying Shames and was called That's Rock 'n' Roll. Logo Records released it. Not only did he play guitar on that track, he also did keyboards, drums and vocals. On the black sleeve of the record there's a message from him to his mother.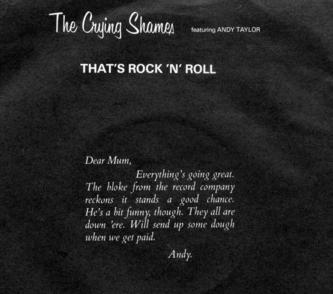 Early 1977, at only sixteen, Andy produced a single for the contest winners, Ward 34 (who were about thirteen at the time).

All that time he had travelled a lot, playing 600 gigs in men's clubs, strip joints and military bases in France, Belgium, Holland, Luxembourg and Sicily. In Luxembourg he tried to stand up for himself and collect the 2000 pounds someone owed him, when that man put a gun against his head. He simply didn't want to pay Taylor.

Tired of travelling he went back home. There he found an add in the Melody Maker in which a Birmingham based band asked for a live wire guitarist. He sold some of his equipment to pay for a train fare and went on his way. "I had just come back from about two years of trudging around Europe, playing and singing on military bases and all", he said. "And I was anxious to get into another playing gig." He met Nick Rhodes, John Taylor and Roger Taylor in Birmingham. "They were like the biggest bunch of weirdos I had ever seen. Which turned me on straight away, cos I'd always felt like being weird, but I had no-one to be weird with in Newcastle. It's not just about playing, there's a whole spirit of forming a band and a style and there was all that incorporated when I met them, not just playing the music."

Duran Duran
"They were quite blatant and said: We're poseurs. We want a good-looking poseur band. I said: Good, because I like dressing up and I love wearing make-up." He was lying through his teeth. Nick wasn't too impressed by his bedenimed image, but as a guitar player he had everything he wanted. He was able to do both the heavy rock lines and the pseudo-chic funk. "The thing that really attracted me to joining the band was that the two managers who were working with the band also owned a nightclub. And we could go rehearse in this nightclub all day and get drunk in it all night. For free!" At that club, The Rum Runner, John asked him what his favourite guitarist was. Andy told him it was Gary Moore and gave a demonstration. Since Moore's album Back On The Streets was Johns then-favourite album, he congratulated Andy on being the new Duran Duran member. Roger remembers: "Andy was more like Johnny Thunders, different." John said: "Yeah, but people could play the Johnny Thunders rock lines, but they couldn't do the Chic rhythms. And we badly needed that crossover in the band." A little later Simon Le Bon joined the band and Duran Duran was born.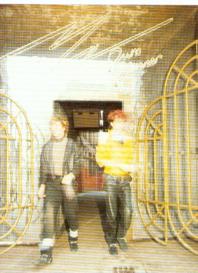 The Rum Runner
The first couple of months they were writing songs and rehearsing, but had to earn money as well. So Andy repainted the Rum Runner and did odd jobs like polishing mirrors and cooking burgers for cash. He floated among friends' couches and beds as he got established in Birmingham.
Down in London bands like Spandau Ballet, Japan and The Human League were being the next big thing. And after a period of songwriting Duran Duran did their first concerts too, at Birminghams Cedar Club, the Holy City Zoo and of course the Rum Runner. They also played some gigs in London. Then the band managers Paul and Michael Berrow decided that it was time to take the next step. They got Duran Duran a tour with Hazel O'Connor, after Michael had mortgaged his apartment for 15,000 pounds. Aside from the rough crowds they had to face every night, Duran Duran lived meagerly throughout the weeks they travelled with Hazel. No one had very much nourishing food to eat and home was their small bus, all five sleeping squashed together. "We had to go out and play a major tour with somebody we couldn't get bracketed with because of the distance between us musically, but with enough fans to put us up on a big stage in front of two thousand people for three weeks sold", Andy recalls. But people started to look at Duran Duran differently. Suddenly three London based record labels tried to sign them. Dave Ambrose of EMI offered them a worldwide contract. They were each given a wage of fifty pounds a week, very generous for young musicians in their circumstances. It gave them the chance to take some time to write songs and soon their first single was born.